After 40 years of experience and family tradition in the baking trade, Proceli was set up in 1997 with the aim of offering a full range of top-quality gluten-free products.

Proceli today is a European benchmark in the gluten-free product manufacturing industry, and consumers appreciate our quality, taste and wide range.
Our RDI department specialises in researching and developing new gluten-free products to offer coeliacs a richer, more varied diet.

GLUTEN-FREE FOR ALL THE FAMILY

Proceli is committed to products all members of the family will like, whether or not they are gluten-intolerant, and which can be eaten at any time of day.

To do this we devote our research and innovation capacities to creating a wide range of great-tasting products to be enjoyed and shared by all.

Proceli is a benchmark for research in the gluten-free sector, and our efforts were recognized and Proceli was awarded for the use of new high technology.

Proceli won prizes for internationalization and was recognized for our commitment to internationalising our products on the most demanding European markets.

We have a rigorous selection process to ensure the best raw materials and natural, gluten-free ingredients. Proceli products are traditionally made, using a gradual fermentation and a slow baking process to bring out all their flavour.

Here at Proceli we are committed to quality and conduct ongoing reviews of our quality and food safety processes at all stages of production.

Our products and production processes are certified annually by national and international bodies to guarantee the absence of gluten and the rigour of our manufacturing process. We hold the following certificates:
Certificado BRC
BRC Certificate

BRITISH RETAIL CONSORTIUM
A set of technical food safety standards which must be met from food production through to its sale to the end consumer.
BRC aims:
To ensure compliance with legal obligations.
Protecting consumers by supplying them with safe, quality products.
Providing a common basis for supplier audits and assessments.
IFS Certificate
IFS Certificate
INTERNATIONAL FOOD CERTIFICATE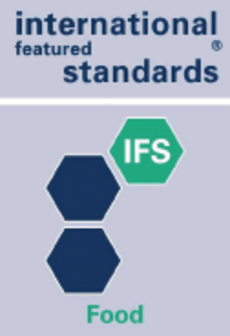 The IFS lays down requirements for quality management systems in companies in the food industry, in order to ensure maximum safety in food manufacture and handling.
IFS aims:
To build up consumer confidence.
To improve food safety.
To consider international requirements.
To reconcile food safety with quality control.
To allow suppliers to be assessed on the basis of an international standard.
Face
FACE
The Spanish federation of coeliac associations (FACE) was officially set up on 27th June 1994 as a national non profit-making body. FACE is made up of 17 separate federations and associations of coeliac sufferers.
The basic purpose of FACE is to coordinate efforts and the work done by its member associations to defend their rights, with a view to unity of action and a higher level of achievement of their common goals.
ISO 9001
ISO 9001
A quality management system which affects all the processes in the company.
Free From Food Awards 2013
PROCELI BURGER: AWARDED IN FREE FROM FOOD AWARDS 2013
The Proceli Burger obtained the special mention Hightly Commended in the 2013 edition from the Free From Food Awards, one of the most important prices for food without allergens.
The price it's been grated within the category "Free from foods manufactured for food service" for salty products (opposed to sweets). The special mention Highly Commended in this category recommend the Burger Proceli as one of the best products without allergens thanks to it "flavor and texture".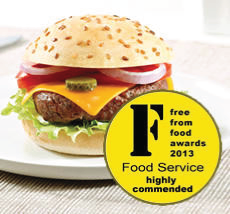 The prices have been grated by FoodsMatter and FreeFromFoods Matter, a group of independent websites with more than 20 years of experience that informs about the allergies and alimentary intolerances and about celiac disease. Has more than 300.000 users and 13 millions visits per year.
The judgement to concede the awards it covers both the quality of the product, based in it's appearance, aroma, texture or flavour as for it's suitability for a diet without allergens, it's grade of innovation and it's nutritional profile.
The jury from these prestigious prices is formed by profesionals in the non-allergenic food sector, nutritionists, dietitians, health professionals, representatives of celiac associations and participants (both professional and non-professional) which compares that are presented with their equivalents with allergens.
This post is also available in: Spanish